I'm kind of a slow reader. This has always been a point of insecurity for me because it's also kind of my job to read. A lot. And I am generally surrounded by people who can and do read a lot, quickly. It's not that I don't spend my time reading. I tend to have several different books and articles around me at all times. Someone might say: perhaps the problem is focus, not speed. To which I might say: yes. My ADHD does often get the better of me.
Something that I am reading may make me think of 10 other ideas that need to be further investigated  . . . in other books and articles. And so I might put down one book to go searching for something else. And then that will lead me to more ideas . . . that need to be followed up in 10 more books. And so the number of texts on my "to-read" list grows exponentially while the list of my "completed" texts grows . . . not so much.
So maybe I read quickly after all, but this reading happens laterally — across several different texts at a time. And maybe I view other kinds of media, too, as part of my lateral reading. Like movies, miniseries, documentaries, Twitter . . .
All of this is to preface a new category of posts that I want to call "What I'm Reading."  While I'd like to periodically point to some things related to crime discourse that I'm reading, I also want to make clear that my "reading" pace or temporality is not necessarily a cover-to-cover reading, followed by a subsequent cover-to-cover reading.
But I recently tweeted about a book I'm reading when I wanted to get some true crime and crime discourse recommendations.
Which gave me this idea: I'd like to start this post category by listing a few things I'm currently reading (or about to read), and I hope that it will encourage some feedback: have you read one of these? What was your reaction or thoughts about it? What else should I add to my exponentially-growing reading list?
Violence of Care: Rape Victims, Forensic Nurses, and Sexual Assault Intervention, by Sameena Mulla.
Mulla is an anthropologist who uses an autoethnographic approach to understand the legal and medical discourses and practices that shape the experience of sexual assault victims. She also interrogates how the idea of "victim" is constructed and instrumentalized through the forensic process. Her aim is to understand the various interactions an assault victim has with the criminal and medical institutions that are responsible for "care." Mulla worked as a volunteer rape crisis advocate in Baltimore, accompanying victims during the hours spent waiting or being examined by specialist forensic nurses that form a bridge between the hospital and the court room.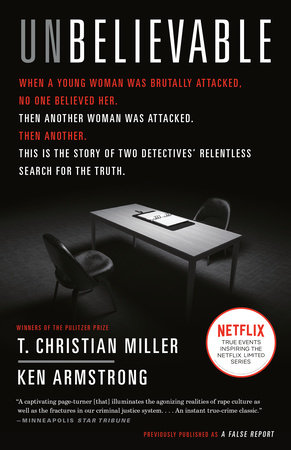 Unbelievable (formerly published as A False Report: A True Story of Rape in America), by T. Christian Miller and Ken Armstrong.
Based on combined reporting, Miller reporting for ProPublica, and Armstrong reporting for The Marshall Project, the book expands on a Pulitzer-Prize winning piece of investigative journalism, published in 2015, that brings together an unbelievable story about the failures in police investigations of sexual assault. The two reporters were working separately on the 2008-2011 rape cases that spanned Washington and Colorado. They were both looking into a report of rape in 2008, in Washington, that the police department had turned around into a charge of "false report" against the victim, "Marie."  Based on collaboration between two different police districts in Colorado in 2011, however, it was eventually uncovered that Marie was an early victim of a serial rapist. The book traces the various historical and current practices around forensics and investigations regarding rape cases to try to understand why policing and justice systems perform so poorly when it comes to sexual assault. The numbers aren't good. The stories are heartbreaking. The reporting was adapted into the highly-acclaimed Netflix miniseries, Unbelievable.
Say Nothing: A True Story of Murder and Memory in Northern Ireland, by Pattrick Radden Keefe.
Published in 2019 and winner of the National Book Critics Circle Award for non-fiction, the book traces the saga of Dolours Price and Jean McConville. McConville was murdered in 1972 amid the "Irish Troubles" in Belfast, the sectarian violence between Protestants and Catholics in British-controlled Northern Ireland.  McConville was "disappeared" and killed by the IRA because she was suspected of passing information to the British military about the Irish republican efforts. McConville was Protestant but had married a Catholic, Arthur McConville. Dolours Price was an IRA volunteer who admitted to her involvement in the kidnapping and execution of Jean in an interview in 2010. Keefe read an obituary for Dolours Price in 2013, which spurred his investigation into the lives and deaths of Dolours and Jean.