I did pretty well with getting through my handful of books I was trying to read earlier this month.  I think posting my reading list actually helped me get through reading more efficiently. So here is another mini reading list for books I'm working on:
The Evidence of Things Unseen, by James Baldwin
I've recently watched two representations of the Atlanta Child Murders case, a cultural tragedy (on top of many intersecting social disasters) that drew the attention of journalists, politicians, and the FBI over a period of three years, 1979-81, when dozens of children from the Black communities in Atlanta went missing, most of whom were later found murdered. The second season of Netflix's Mindhunters series focuses on this case. And HBO recently produced a mini documentary series taking another look at the case in light of the 2019 decision to take another look at some of the cases.  This book by James Baldwin explores the Atlanta Child Murders from a social and cultural perspective. Baldwin was commissioned by Playboy to travel to Atlanta and investigate and write about the phenomenon, from a literary-journalist perspective. The case/era is a kind of cultural phenomenon in itself, much like the "Yorkshire Ripper" case, which occurred over a similar time period, shook England, culturally. In the context of the U.S. South, the unique economic and cultural shifting point of Atlanta during this period, and the changing political landscape in the U.S. (from Carter to Reagan, and the first Black mayor just being elected in Atlanta, post civil rights era, the dawn of the Atlanta airport and corporate boom, etc.), this public safety crisis and the terror of a possible serial killer — whether Klan oriented or "social deviant" — produced layers of significance.
Yellow Bird: Oil, Murder, and a Woman's Search for Justice in Indian Country, by Sierra Crane Murdoch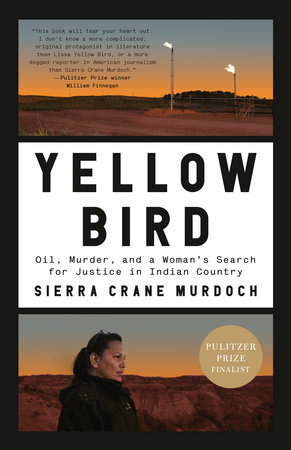 This book was recommended to me by a friend, and it looks very compelling. It is the product of eight years of investigative journalism by Murdoch, who followed Lissa Yellow Bird as she tried to track down a missing white oil-man, Kristopher "KC" Clarke. Lissa is a member of the Mandan, Hidatsa, and Arikara Nation, which is an affiliation of tribes that were relocated to the Fort Berthold Indian Reservation in North Dakota. Why she initially decided to track down the missing man is a mystery to Lissa herself, but the mission draws Murdoch's attention to the crisscrossing worlds of systemic violence and exploitation that clash in the oil fields.
The Round House, by Louise Erdrich
This is a novel that I've started in the past and haven't finished, and it seems fitting to try to finish it now as I also read Yellow Bird. Erdrich is one of the most known and widely-read American writers of Native culture, and she is descendant from a Chippewa tribe. This novel, from 2012, is part of her "justice trilogy" that began with The Plague of Doves in 2009 and ends with LaRose, from 2016. The Round House is set in 1988 and is narrated from the perspective of a 13-year-old boy who seeks answers and revenge for the brutal attack and rape of his mother. Like the other novels in this trilogy, it is set on an Ojibwe reservation in North Dakota. The novel explores the arbitrary-yet-consequential legal peculiarities of tribal, state, and federal jurisdictions, as well as the embodied and social consequences of generations of racism and economic exploitation that are particular to postcolonial United States.